What is a Performance Bond?
A Performance bond acts as a financial guarantee when it comes to completion of construction or commercial projects. This bond guarantees that you (principal) will complete the job that has been awarded (you came low on) to your company by the project owner (Obligee – This can be a municipality, governing body, or a private project owner). When you placed a bid, you mentioned your price, time frame, and level of standard.
Performance bond guarantees the Obligee that the job will be done as per agreed terms. If the Principal (You) defaults or is unable to continue the job for any reason, the performance bond may be cashed by the Obligee to recover from loses. The principal may be responsible for the loses the Surety or insurer incurred.
It's very important to know that this bond comes AFTER the bid bond. To clarify further, you do not require this bond unless you have either came low (won the job) on the bid placed or are 100% sure you will be awarded the job. So there is no expense upfront.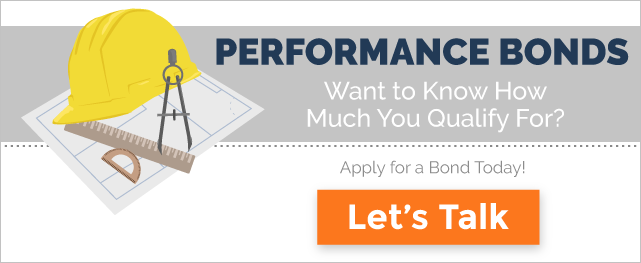 Frequently asked questions regarding these bonds
How do I Apply for a Performance Bond & What is the cost?
Cost is usually 1% of project price. Example, if you have been awarded a job that is $200k, you can expect to pay $2,000 for that bond. Now, we understand that you may not know a lot about how a performance bond is used as a financial guarantee when it comes to construction projects.
To make things easy, we have broken down information for you in the simplest possible words. If you have any questions or require guidance regarding your bonding needs, please do not hesitate to call 1-888-480-7677 or contact us by clicking here.
Application process to get your bond
The process is simple. There are certain things that we require from you before we can start issuing bonds for your job. Here are the steps broken down to make it easy:
Provide your broker the award letter that you receive from the project owner. They will always provide you this if you are selected. Confirmation of winning the job can be verbal as well.
Tell your broker the number of days the bond is required in. Usually you get a week to present the bond.
Pay the bond premium payment.
Specify delivery instructions. Most companies prefer to have the bond sealed and couriered to them. We can arrange to meet in person as well. No problems either way.
3 different ways

you may be required to present this bond

This bond usually comes in effect when you win (come low) on a bid and get hired by the obligee (The person, company, municipality, governing body, etc) to get the job done.

The project owner (obligee) may demand to have the guarantee bond presented in 3 possible different ways:
50% of the total job
100% of the total job
50% performance & 50% Labour and Materials totaling to 100% of the total job
You will know exactly whats required before you even place your bid. All this information would be present in the tender document that outlines all specs of the project itself. All you have to do from that point on is to tell your broker exactly whats required so the bonds are prepared properly.
Keep one thing in mind – You FACTOR IN the cost of the bond in your total bid. Bonding should NOT be an additional expense. We would tell you ahead of time exactly what you would be paying for the bond for any given bid price you had in mind.
What determines the Performance Bond Cost?
It is vital to know that you'll be required to pay for your contract bond, but only when you know for sure you will be doing the job you need the bond for. This bond is well worth the price as it saves you working capital and the hassles of arranging an alternative guarantee for the project owner (obligee).
However, you should still familiarize yourself with the different types of contractor bonds and factors that will play a role in the final price. For your consideration, these will be listed below.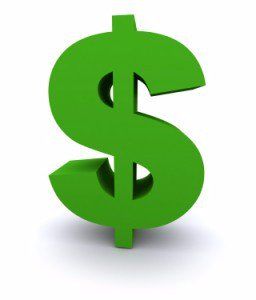 Overall bond $ amount
Size and type of contract
Province of contractual obligation
Your surety company of choice
The contractor's history and credit
Fees for agent or broker's services
Every job is unique and requires specific underwriting. The points mentioned above should be considered as a starting point to estimate cost. Factors such as special insurance company surety programs, their preference for certain niches, and risk tolerance also come into play when the cost of the construction job completion bond is determined.
To know exactly where you stand, its best to speak to a construction surety bond broker that is specialized and experienced with providing bonding.
Anyways, to give you some numbers:
COST – Here are some quick ball park figures for a $100k job
Bond premium (0.75% to 1%)  – $750 to $1,000
Bond fee – $0 with us.
Courier fees – $0 with us
IMPORTANT thing to know
You don't pay a single dime unless you land the job. These payment guarantee and job completion bonds are only required after winning the bid. If you bid on a job and didn't come low, no problem! Keep bidding, bid bonds are free with us.
Rates can even be lower than the ballparks mentioned above depending on the job and your company's history. Generally, you can expect to start off at 1%.
In Canada, after surveying 250 independent construction contractors, it was found of over 90% of construction companies were NOT bonded. Meaning they do not even bid on jobs that are exclusive to companies that are backed by a Surety provider like us. The companies that were bonded mentioned being able to bid on exclusive bonded jobs as a MAJOR reason behind their growth.
Fun fact – Margins in bonded jobs are generally MUCH greater as there is less competition bidding on the same job.
There are many insurance companies like Intact Insurance and Aviva Canada that give new and old businesses a chance to qualify for a facility so there is always hope. You want to be in the 10% that are profiting off the bonded jobs. We can help you get there.
What financial statements do I need to provide to get a performance bond for my job?
To get qualified for your job desired limits, its always recommended to provide your company's financials for the previous 3 years. If you do not have those documents available, we can still provide you a bond but you may only qualify for our small limit program which is $500k per job and $1 Million aggregate for the year.
In the event you are bidding on a job that requires a your construction company to post a bond with limits that are higher than our standard program, we would require the following documents for the underwriting purposes:
Your company's balance sheet (Notice to reader or Review engagement)
Income statement
Cash flow statement
Current jobs on the go
Work schedules
If these documents are not presented, the surety may be hesitant to provide a facility. Almost every Surety market in Canada likes to work with companies that are well capitalized, have decent cash flow, a good track record of jobs completed, and finally consistently profitable. When debt shows up on balance sheets, it usually is a huge red flag with the surety.
In most cases, they either deny the bond request or charge a high bond premium to compensate for the risk presented. These requirements vary depending on the type of job, location, and the size. It is common for a surety company to deny the same job in one geo vs another as they may have a higher risk tolerance and appetite for specific demographics.
What if my company does not qualify? What are my alternate options?
If you do qualify for a surety bonding facility, you still have other options that you can consider to land the job. Generally there are 2 ways.
Putting up your own cash – You can put your own money collateral and have amount act as a security for the project owner. This option is more traditional and was used before any type of construction performance bonds became more popular. The drawback with this option is that it effects your working capital and every company needs a solid cash flow to do the jobs. Unless you have the cash available to put up, it would be tough to satisfy the project owners demands for a collateral without taking a serious hit on your working capital.
Letter of credit – Getting a letter of credit from the bank is another great option. With this option, your banking institution is basically vouching for you and is guaranteeing that payments or delivery will occur depending on the terms you agree with them.
In most cases, you would know the exact specs required when it comes to getting the bond ahead of time. This information can usually be found in the tender document. If you are confused about what a tender document is, then to clarify further, we are talking about the document that has the job description, requirements, bidding information, etc.
Read through that document and search for the bonding requirement section. There you will find everything you need to know. Also, if you do not want to do the searching yourself, send the documents to us or tell us a bit about the job (tender), we'll find the specs and make your life easy. If you require a bond ASAP, we recommend completing the Surety bonding application by clicking below!


THE UGLY TRUTH

 about Construction Companies and Builders!

Some Construction companies and builders never take advantage of getting setup with a surety facility. The benefits of having a surety company behind your business screams for more exposure. Once your company is bonded, you can start exploring jobs that are ONLY open to companies that can provide performance bonds.

We want to help you achieve your potential. Our Insurance companies and Surety Markets understand the dreams of a business owner. Often, small requirements or formalities, end up ruining opportunity. No longer will getting bonded for a builder company be an unnecessary hassle (like some customers experience), provided they qualify for their required facility limits with one of our Surety markets. We will get straight to the point and let you know weather your company qualifies for bonding facility or not.

How does this bond protect the Obligee? The ones doing the hiring.
Have you ever thought about investing your money? If so, you might want to consider entering into the real estate market. Buying land and developing property can be exceptionally profitable, if you make the right moves.
Of course, you're not the only entity involved in this arrangement. You'll need to enter into a contract with a construction contractor. In order to protect your investment, you will want to obtain performance bonds on the project. Below you will find out how this bond can add a layer of protection for you.
How do these bonds effect you as the Obligee?
First and foremost, you should take time to learn about the basics of this type of construction bond. Whenever you decide to invest in a property development, you will need to select a contractor.
Requiring the contractor to provide you with a performance bond will guarantee that the work will be completed, within a satisfactory period of time, and as according to the contractual details. Frequently, PBs and payment bonds are issued in correlation, in order to protect both parties of the transaction.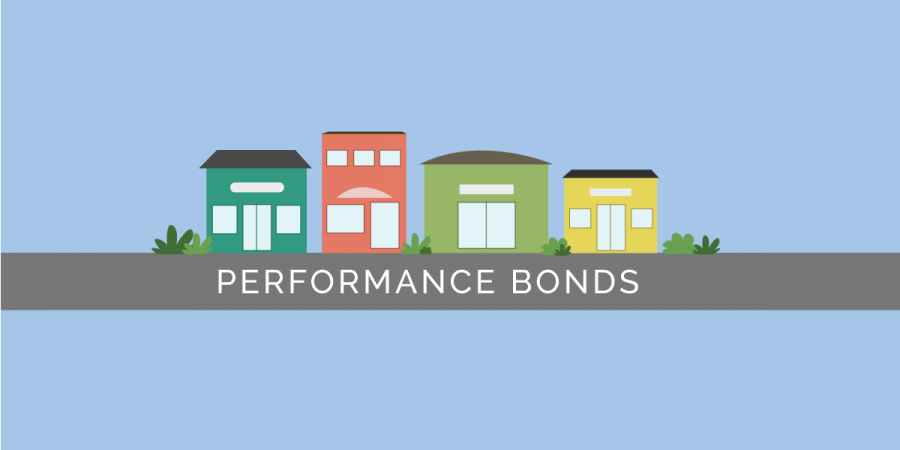 Protects Contractor and Customer
The biggest advantage that is offered through the performance bond is both the customer and contractor are protected from financial loss. If you are in the residential or commercial construction space, there could be some advantages to leverage performance bonds to better optimize your company's cashflow.
Also, it will protect you from financial loss and prevent you from being out of commission for longer than necessary in the event your contractor defaults. This will not only ensure of a completed contract, but it will also ensure you that the job will be completed within time as per the time frame allotted.


Background Checks
In order to receive a performance bond, the surety or bond company will run a full background check on the principal (contractor), along with a credit history. This will ensure the surety that the contractor is reliable and will abide by the rules of the performance bonds they obtain.
With lower-risk bonds, the contractor will have to pay a small percentage up front, which can range from 0.5 to 1% of the total bond amount. Higher-risk bonds are usually required to pay a higher premium based on the total amount of the bond. When the surety runs a background check, they usually weed out guys that are likely to default and cause the obligee time and financial losses.


Poor Performance support from the Surety
If at any time you the obligee finds that the contractor never full-filled the job as promised, you will have the right to file an immediate claim against the performance bond.
In this case, the bond company will start an investigation to see if there is justification to make a full payment for the claim. The surety will make the payment, if justified, and then seek to make the principal repay the costs .
Overall
At the end of the day, construction companies, builders, and property developers, should all use a performance bond or contract bonds for their construction projects. The risks are too great to pass up this opportunity to protect yourself, your investment, and your peace of mind.
Other Types of Construction/Contract Bonds we provide: